Published on May 18, 2020
In the last few weeks I've heard from various clients and contributors that say they'd like to start shooting again, but they're not sure how to go about it safely. I wanted to chat through one such instance where we successful produced a film whilst maintaining safety precautions, in what I'm terming, the new normal.
Three week ago I was approached by one of my biggest clients, Amazon. They wanted to take an inside look at what's happening in their Fulfilment Centres during this exceptionally busy and difficult time. Now to do this safely, we had to look at what precautions we can put in place to capture this content without transmitting COVID-19. I thought I'd run through how we did it.
Crew Size
The first issue was working out how we can reduce bodies on the ground to ensure that we're limiting the transmission opportunities. Usually we work in relatively small teams of two or three anyhow, but this time we reduced that to just me as a solo shooter.
Having spent a few years self-shooting, this wasn't too challenging for me. I had a shot list figured out in my head of exactly what B-Roll I needed. I knew what the general story was. We had limited locations and limited kit, so technically, it wasn't too challenging.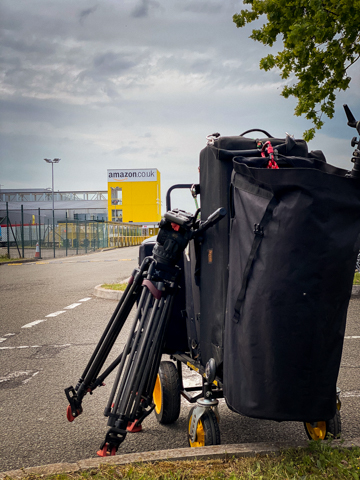 Equipment
To allow me to work solo, I used a stripped down camera kit (an FS7, tripod and a couple of lights) so I could easily wrangle it on my own. For sound on my interview, I used a boom pole set on a stand. Due to the loud environmental noise in the Fulfilment Centre, I had to use a lavalier microphone as well. This had been unused for at least 3 days prior. I set the kit out and instructed Dom, my contributor on how to attach the mic to himself so I needn't come with-in 2 metres of him.
For the primary interview shot, I used a telephoto lens (70-200mm) locked off on Dom. This meant I could stay far enough way from him but still capture a relatively close mid-shot. This allowed us to have an intimate feel, even though the camera was a good two metres away.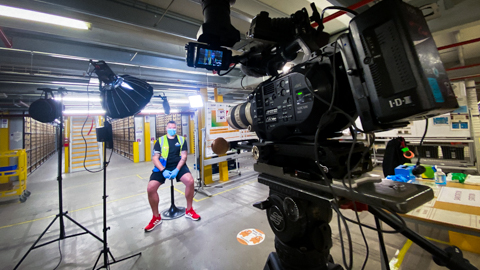 PPE
At all times throughout the shoot I wore a face mask. With me, I also had gloves. On top of this, hand sanitising stations were provided. Whilst getting used to working with this is challenging, (and how healthcare workers can wear a mask for 11 hour shifts, I'm in even more awe of them!) I totally understand the sacrifices we have to make if we want to carry-on working in the foreseeable future.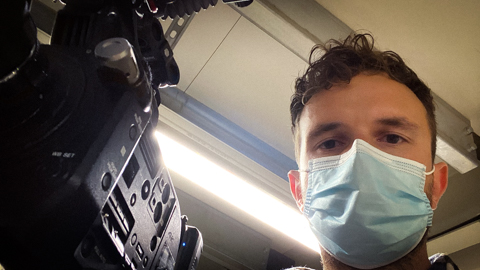 Social Distancing
By filming solo or in small teams out on location, this is definitely possible. Staying two metres apart will limit COVID-19 transmission. In larger teams and small studios, this is going to be more challenging. Working with single contributors at time also helps. And with clients being off-site during the shoot, this does ensure that there are less bodies on the ground.
User Generated Content
In the last 2 months we've seen a rise in UCG (User Generated Content) being used in mainstream advertising. Whilst this will never replace the work of a professional camera crew, it does give you access to locations and subjects that would otherwise be too tricky to capture professionally.
Within our film, we wanted to convey the human element of this story and particularly with our contributors family. As we deemed this to be too risky for me to capture personally, I developed PDF guide which contributors can use to help them capture better footage with their phones at home.
This User Generated Content Guide - Shooting better video content with a smart phone can be downloaded here for free.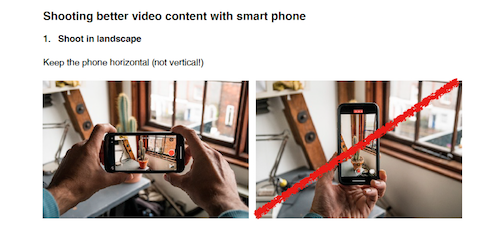 The guide simply talks through how to maximise the quality of video from your phone. How to use light to your advantage. How to keep the camera steady. How to approach multiple shot sequencing (wide, close-up, etc…) and then how to transfer the footage to the edit suite without losing too much quality.
Conclusion
Of course this is just one instance of how we made the production work. Going forward, I think every shoot will have to be conducted for the foreseeable future on a case-by-case basis. Risk assessments will have to be conducted on how to limit contamination.
Personally, I think this is a challenging time for us all. Working under these circumstances isn't ideal. But if we want to continue in our profession as filmmakers, we have to adapt and change and find ways to make these changes work.
See Dom's film here: