Freelance DoP with kit
I own a full set of Zeiss primes which means I can offer a cinematic look without breaking the bank. For run-and-gun jobs, I've got variety of zoom lenses from Zeiss, Sony, Canon and Sigma, which means I can use the right tool for the job. I tend to favour working with the Canon CN7x120 for jobs that involve a lot of run and gun work to enable be to reposition and get set in the fastest time possible.
In terms of grip, I own a variety of solutions including: Wally Dolly tracking system, ErgoRig camera support, mini-Jib, slider, DJI Ronin (3-axis stabiliser) and have experience of working with exoskeletons and support like the TILTA Armour man and Easyrig systems.
As for lighting kit, I have various lights and modifiers including a lot of Aputure fixtures like the NOVA (ARRI Skypanel alternative), C300D, C120D Mark 2 and the 300x (DEDO equivalent), Kino Flo DIVA, lots of LED 1x1 panels, portable ring and camera top lights as well as lots of stands, rigging and clamps. All of which live in my van, so it's always available on my shoots. For bigger productions and studio shoots, I'll hire in the right lights for the job, whether that be Kino Flo Selects, ARRI Skypanels, ARRI 2Ks or 5Ks, Dedo Octodomes or 12x12 silks.
In addition to this, I'm also a cameraman with EyeDirect and iPad AutoCue system. The EyeDirect is an amazing piece of kit which, through a series of mirrors, places the director's face over the camera lens. This allows for natural looking down the barrel interviews. I personally find this a really authentic, empathic and potentially emotional story telling tool which works fantastic for charity case studies through to corporate interviews. The iPad autocue system allows a script to be loaded in front or off camera, which enables a spokesperson to read a script rather than memorising it word for word. It requires little practise and is a really quick and easy way to film scripted content.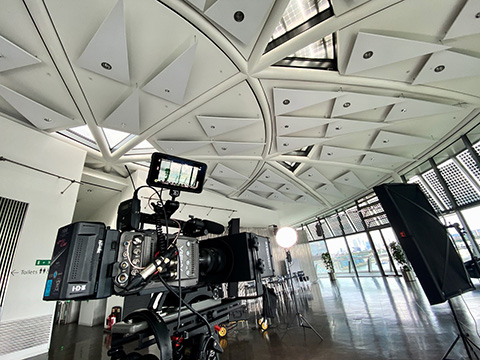 Shooting with the EyeDirect and ARRI Amira
As for back drops and studio shoots, I can offer portable green screen, white screen or black screen as default for on location work.
For my full kit list, please checkout: For a full kit list, check out this page.
Having shot with the Sony FS7 for over 2 years, the countries leading photographic store, Wex Photographic and Video recently commissioned me to create an in-depth review of the camera. That can be seen here.
ENG Cameraman
As an ENG Cameraman, I've filmed for broadcast, sport and news. My footage has been broadcasted on BBC, ITV and Channel 4 as well as across international sports channels. I've the ability to self-produce and capture the moment when it most matters.
Cameraman with Drone
I also hold a CAA Permission for Commercial Operation with full Liability Insurance to work with Drones enabling me to capture aerial footage for TV, online and corporate video productions. Often this will just be a couple of quick shots on a shoot to use as establishing shots, but this can also be useful on action and adventure shoots where the aerial perspective can help tell the story.
Self-Shooting Producer/Director
Operating as self shooting producer/director (PD self-shooter) I'm able to film content whilst continuing my role as a producer/director. In many cases, such as insufficient budgets or sensitive stories, it's not possible to send a whole crew in to capture the story. This is where I operate, capturing all the content solo or with a production assistant.
Freelance Videographer
As a freelance videographer, I tend to service the PR, marketing and event sectors, capturing content as one-man-band style cameraman and director. Using an ENG style setup I can capture the content of an event and then edit onsite or overnight to be sent out as a video news release immediately. My ENG setup has been used across international sports events, immersive brand events and news pieces.