Freelance FX9 Cameraman
The new Sony PMW-FX9 is the exciting new full frame camcorder from Sony. This camera sits alongside Sony's current line-up of cameras including the FS7. The FX9 is becoming the industry workhorse of a camera and overtime is likely to become the most popular camera in production (if Sony can move people away from their FS7s!)
The FX9 camera features a full frame 6K sensor with improved colour science and up to 15 stops of dynamic range. It has a duel base ISO for improved low-light filming. It also features a bunch of onboard features like built in genlock and timecode for easier multicam syncing.
This camera has been built based on the FS7 and with the Sony community of owners and operators feeding back. It's built around being a solid run-and-gun ENG camera and is perfect for event, broadcast or studio filming. Improved ergonomics and design ensure that owners and operators will be able to use day-in day-out. A variable electronic ND filter ensures that the operator can dial in the precise amount of the filter they need or just set it to auto and let the camera manage the exposure for you.
The build of the FX9 camera is sleek with lots of programable buttons and dials. The addition of a couple of extra audio channel dials brings the total to 4 fully controllable on camera pots which will make operators lives much more straightforward when trying to wrangle multiple microphones on a shoot.
As a cameraman, I personally think this camera is a great addition to the Sony line-up and will fast become the staple workhorse of all owner/operators out there.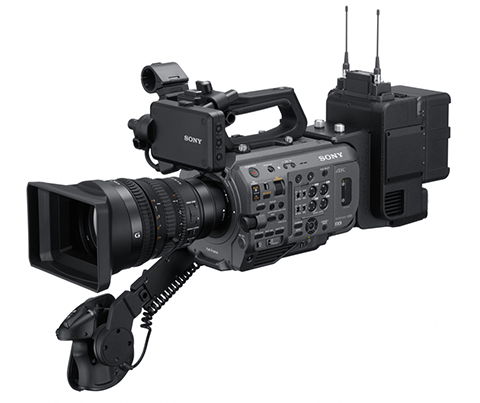 As a dedicated filmmaker, my quest is always to tell captivating stories that resonate with my clients and audience. To achieve this, I rely on the exceptional capabilities of the Sony FX9, and here's how it empowers me to tell better stories:
1. **Unrivaled Cinematic Quality**:
The Sony FX9's full-frame sensor and 6K resolution allow me to capture every detail with breathtaking clarity. It means my clients get visuals that exude a cinematic quality, enhancing the emotional impact of the stories I tell.
2. **Unmatched Dynamic Range**:
With the FX9's 15+ stops of dynamic range, I can expertly play with light and shadow. This means my shots look more natural and engaging, helping to create visually stunning narratives that draw viewers in.
3. **Effortless Focus**:
Fast Hybrid Autofocus (AF) is a game-changer. It enables me to maintain precise focus on my subjects, even in dynamic scenes. This ensures my clients' stories are conveyed without distractions, adding depth and emotion to every frame.
4. **Versatility to Match My Vision**:
The Sony FX9's adaptability is a boon for any filmmaker. It effortlessly accommodates a wide range of lenses and accessories, enabling me to tailor my equipment to suit the specific visual style and tone of each project.
5. **Seamless Integration with FX6**:
The FX9's compatibility with the Sony FX6 is a storytelling dream come true. The large sensor of the FX9 complements the compact design of the FX6, allowing me to blend footage seamlessly. This dynamic duo ensures my clients receive consistent and visually captivating narratives throughout their projects.